Description
***How To Paint The Harvest Mouse Tail & Whiskers With Watercolours!***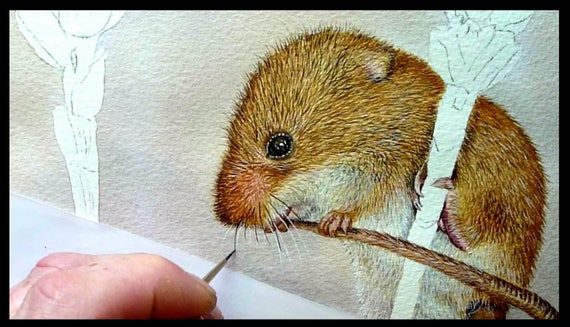 Harvest Mouse Watercolour Lesson Downloads. (approx 16 minutes of video tuition).
The tail of a harvest mouse needs to show form, detail and colour, plus the whiskers can be applied using a carefully flick of a brush. These 'two' videos will give you a good idea on how to achieve a detailed and effective finish to these areas.
***What you will get:***
You will get two PDF documents to download, one will be a check list for the materials needed for the whole DVD lesson. The other PDF will contain a link to the web page for this one lesson you have selected. This can also be downloaded to your computer from the web page for you to play without the need for an internet connection, so ideal if you are away from home with your laptop or tablet.
I have decided to split my Harvest Mouse watercolour DVD (see the links below) into individual, affordable, downloadable lessons! So for those who only need to learn how to paint for example fur, an eye, a background wash, detailed feet and so on, this is an inexpensive way of learning at your own leisure.